We are happy to announce that Gitora 2.1 is available for download. Along with a few bug fixes, Gitora 2.1 enables PL/SQL developers to use Git Tags to label any commit point in the Git repository.
Tags can be used for a variety of use cases but the most common one is to label a Commit ID for specific versions of the code base such as tagging a specific commit with the label "Version 2.0".
It is very easy to create tags in Gitora. Simply, go to the local commands menu, select "Create Tag" menu item under "Tags".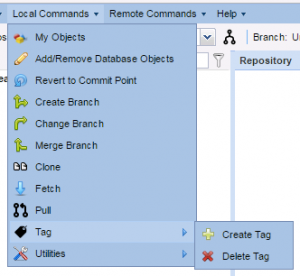 A dialog shows up.

Enter the name of your tag (no spaces). Enter the commit ID you'd like to attach it to. If you'd like to attach your tag to the HEAD i.e. the most recent commit in the current branch, leave the Commit ID field empty. You may also use a branch name instead of an actual Commit ID.
Click OK to create the tag. If the tag is attached to a commit visible in the Gitora repository browser, it will show up in the Gitora Application.

To delete a tag, select the Delete a Tag menu item under the Tags menu, enter the name of the Tag you'd like to delete and click OK.
Tags are available in Gitora 2.1 Professional Edition. Enjoy! 🙂
Kind Regards,
The Gitora  Team